German Chancellor Angela Merkel has paid homage in Jerusalem to the six million Jews killed by the Nazis.

She said Germany had a responsibility to confront anti-Semitism and never to forget the Holocaust.

The visit comes against a backdrop of resurgent nationalism and far-right violence in Germany which has beenfuelled by anger at Ms Merkel's decision to welcome more than one million mostly Muslim asylum seekers in 2015.

She also said she agreed with Israeli Prime Minister Benjamin Netanyahu that Iran, Israel's arch-enemy, should never be allowed to acquire nuclear weapons but that they differed on how to achieve that objective.

Ms Merkel began a day of meetings between Israeli and German government officials with a visit to Yad Vashem, Israel's national Holocaust memorial, where she laid a wreath on a stone slab that contains ashes of death camp victims.

"Almost 80 years ago, on the pogrom night of November 9, Jews in Germany faced unimaginable hate and violence. This was followed by unprecedented crimes against civilisation in the form of the Shoah," speaking German and using the Hebrew word for Holocaust, she said at Yad Vashem.

"Germany has a perpetual responsibility to remember those crimes and to confront anti-Semitism, xenophobia, hate and violence," she said, after arriving for a 24-hour visit as part of annual government-to-government talks between German and Israeli ministers.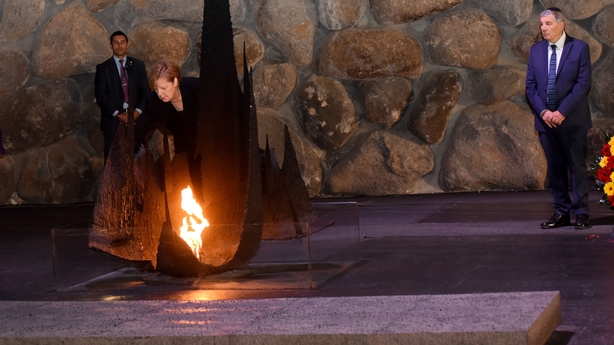 Following discussions in Jerusalem with Mr Netanyahu, Ms Merkel addressed Middle East issues in a joint news conference with the Israeli leader, who praised what he described as her consistent stance against anti-Semitism.
Germany remains party to a 2015 nuclear pact between Iran and world powers that Mr Netanyahu opposed and from which US President Donald Trump pulled out in May.
"We are very convinced and strongly share Israel's position that everything must be done to prevent Iran from acquiring nuclear weapons. Where we are not always united is on the path to this goal," Ms Merkel said.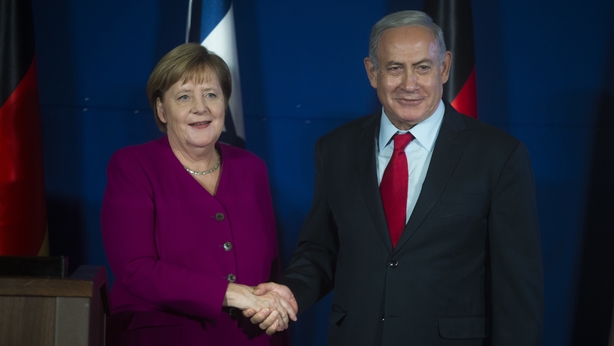 At the United Nations General Assembly last week, Mr Netanyahu accused Europe of appeasing Iran and said he would prevent Tehran from entrenching in Syria and arming Lebanese Hezbollah guerrillas.
Ms Merkel, at the news conference, described Iran's military presence in Syria and Lebanon as a threat to neighbouring Israel.
On the Israeli-Palestinian conflict, she reaffirmed her support for a two-state solution and concern about Israeli settlement expansion in occupied territory where Palestinians seek for a country of their own.
Such activity, she said, "makes the two-state solution difficult to achieve".
Ms Merkel said that Mr Netanyahu urged Germany to encourage the Palestinians to return to negotiations that collapsed in 2014, adding: "I will do this".
There were no plans for Ms Merkel to see Palestinian leaders during her brief visit.
Source: https://www.rte.ie/news/world/2018/1004/1001007-merkel-israel/